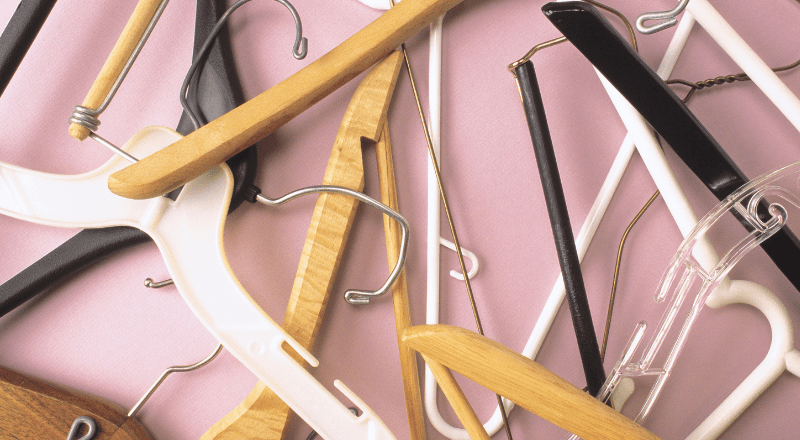 There's a variety of hangers that you can use when hanging up your clothing garments in your closet. Do you use wire hangers? Wooden hangers? Velvet, or plastic hangers? Or, maybe you have a mix of them all for your clothes! Unless you work in the fashion or retail clothing industry, there's a good chance you don't give much thought to the type of clothes hangers you use on a daily basis.
It may surprise you to learn that it does actually matter what type of clothes hangers you use. Depending on the specific type of garment, the hanger can either make or break its longevity. Therefore, it is important to understand which hangers are best to use for your clothes.
Wooden Hangers
Wooden hangers provide better support your clothes and are able to maintain that essential shoulder-mirroring shape over long periods. Wooden hangers will hold your most valuable items while in storage without misshaping the collars of your shirts or stretching suits and most-loved blouses. Because wooden hangers are more durable than plastic or wire, they will support your clothes better. There's no need to worry about your clothes falling off the hanger.
Usually, wooden hangers are wider compared to other hangers and are able to  hold their shape. Another benefit that wooden hangers have is that depending on the type of wood used, it can also serve as a pest repellent!
Satin/Fabric Hangers

Satin/Fabric hangers are also great for all your delicate clothing. However, they are ultimately used for various kinds of garments. Additionally, they include a  padding which supports the longevity of your garments further.
The contoured padding prevents damage and creases to clothing. These fabric-padded hangers are available in multiple different colors of your choice and design options that are ideal for special outfits, delicate dresses, and materials that are prone to creasing. In addition, satin hangers look very elegant in your closet!
Velvet Hangers
Velvet hangers for starters, look much nicer than wire and plastic hangers. Along with this, they offer special design features like notches that keep clothing with straps secured. Your garments are less likely to slip off when hung up with a velvet hanger or wrinkle. Velvet hangers can also work well for cotton garments since they do not leave points in the shoulders.
Metal Hangers 
Metal hangers are much sturdier compared to other hangers and won't bend; keeping your garment structure intact. Also, metal hangers have a stronger design, which allows for storage of heavier items such as winter coats, jackets, and jeans. In addition, metal hangers tend to look much nicer than wire and plastic hangers.
Although, the only negative aspect to this type of hanger is that they are not as widely sold in stores and usually need to be special ordered. Also, they tend to cost a bit more money compared to other hangers.
If you would like to learn more information on picking out the best hangers for your clothing garments, contact Red Hanger today! We are here to help.