Red Hanger FAQs
Contact Us Today
Red Hanger Cleaners FAQS
What all does a cleaner do?
Do my laundered shirts get dry cleaned?
Read our most frequently asked questions below.
Have a question that you don't see? Contact us.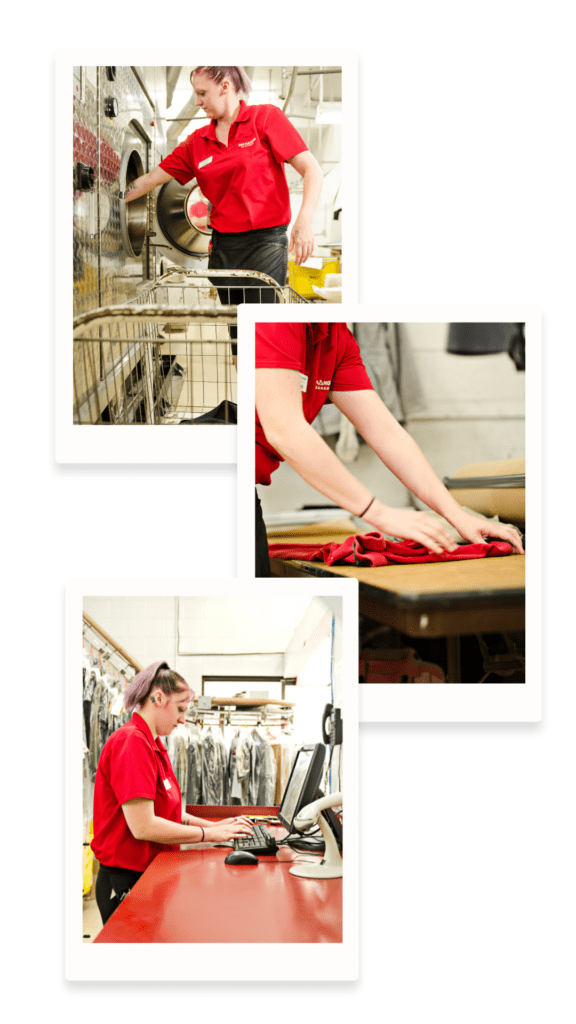 Red Hanger Delivery Service
Our most frequently asked questions about delivery service.
Which days are my pick up and delivery days?
Depending on where you live, your service days will either be Monday and Thursday or Tuesday and Friday.
Whatever we pick up on Monday we return on Thursday.

And, whatever we pick up on Thursday we return on Monday.
Alternatively,
Whatever we pick up Tuesday we will return on Friday.
And, whatever we pick up on Friday we return on Tuesday.
Do I need a Red Hanger Account?
Yes. So, by creating an account, you allow us to communicate with you directly about the status of your laundry or dry cleaning order. We also need payment information on file at all times.
How is my account information stored?
All data is encrypted and tokenized using the latest security techniques. And, Red Hanger only keeps a security token on its system and does not keep any credit card data. In addition, all credit card data is stored securely by our credit card processor.
I signed up. When will my services begin?
Once you sign up for pick up and delivery, you will be contacted by customer care to confirm your pick up and delivery schedule. Depending on your address, service starts either on a Monday andThursday, Tuesday and Friday.
(Note: What we pick up on Monday, we return Thursday and what we pick up Thursday we return Monday. Alternatively, what we pick up on Tuesday, we return Friday and what we pick up on Friday, we return the following Tuesday.)
Thus, if you have additional questions or needs, please reach out to [email protected].
I have an issue with my order. What do I do?
For minor quality issues, such as broken button or missed spot, please contact your store manager to resolve your issues. And, for more complicated issues please email [email protected]
Red Hanger Loyalty Program
You might just be our next favorite customer.
What is your Loyalty Program?
The Red Hanger Loyalty Program is a way for you to receive a $25 coupon whenever you spend $250 with Red Hanger. The Loyalty Program features contactless pay, online ordering, free pick up and delivery as well as other perks.
How do I receive my Loyalty Coupon?
Once you spend $250 with Red Hanger a $25 coupon is automatically emailed to you. You can print and drop it off with your order, place it in your delivery bag, or even just show the staff on your mobile device.
Note: Our system requires a barcode to apply your credit.
When should I use my Loyalty Coupon?
Soon! The credit is non-transferable. It must be applied to future orders, and expires 3 months after its issue date. Also, the credit must be used in one single order.
Is Laundry Subscription Service included in the Loyalty Program?
No, the money you spend on Laundry Subscription Service does not go towards the Loyalty Program but it does for all other services.
Red Hanger Dry Cleaning Service
Our most frequently asked questions about dry cleaning.
What is dry cleaning?
Dry cleaning refers to cleaning clothes without the use of water, hence the term "dry" cleaning. However, while water is not used in dry cleaning, a liquid cleaning solution is used to clean clothing, bedding and other fabrics. The clothing garments are completely immersed into this liquid cleaning solution.
How is dry cleaning different from laundry?
The fundamental difference between dry cleaning and laundering is water; dry-cleaning does not use water, while laundering on the other hand, does.
The dry cleaning process is done with a non-water-based cleaning solvent  to remove stains and grease from clothing.
Laundry – also called wet cleaning – uses cleaning agents such as soaps, detergents, or softeners, along with water to remove any dirt from your clothing.
Another important difference is fabric. Dry cleaning is typically more gentle on fabrics and targets certain types of stains.
What can I send to the cleaners?
Do you do alterations?
We offer a variety of alteration services by partnering with Stitched Specialties. Also, finding alterations nearest to you is now easier than ever as Red Hanger provides online alteration services with free pick up and delivery.
It's easy! Sign Up Now to create your Red Hanger Account and throw your garment in with a note for simple alterations any time.
Read more about Red Hangers alteration services with this link.
Red Hanger Laundry Service
Shirt Laundry or Wash, Dry, Fold? Learn the difference to get the most out of your account.
What is Shirt Laundry?
Shirt Laundry includes washing, drying and pressing of professional work shirts that are cotton or mostly cotton.
Laundered shirts are removed wet from the washers and put onto our state-of-the-art pressing equipment then they hand finished and inspected for broken buttons and great pressing.
What is Wash Dry Fold Laundry Service?
Red Hanger offers wash and fold services for regular everyday laundry – anything that you don't need pressed or that does not required dry cleaning – including items such as towels and sheets, anything that can fit into your laundry bag. One way to think about it is do you want your clothes to come back on hangers or not. If so, you should opt for dry cleaning.
Beware! We sort your laundry by color but we assume that if you put it in the green bag you want it washed and folded. Make sure you put your dry cleaning items into your yellow dry cleaning bag.
What is Laundry Subscription Service?
Laundry Subscription Service is a subscription Wash Dry Fold service.
Instead of charging by the piece or by the pound, Laundry Subscription Service is a monthly recurring charge based on the number of laundry bags we give you.
View a full list of services with their prices here.
NOTE: We sort your laundry by color but we assume that if you put it in the green bag you want it washed and folded. Make sure you put your dry cleaning items into your yellow dry cleaning bag.
How many laundry bags should I get on subscription?
Each bag carries about 3 standard loads of laundry. If you have a small washing machine, this could be as many as 4 loads. If you have an extra large washing machine, this might be closer to one and a half loads. To decide how many laundry bags you need, consider the type of laundry your are washing. Sheets or towels take up more space than whites or colors.
Also, consider how many people are in your home – 1 bag per week should be suitable for 1-2 people on a weekly basis. If you have family, consider 3 bags per week.
I signed up. When will I receive my bags?
After you create your profile, we ship out your laundry bags asap. Once you receive them, load up your bag(s) and toss em out on the porch for your next pick up and delivery day.
Why should Red Hanger do my laundry when I can do it at home?
The honest truth is, we save you time. You might outsource your lawn care and your house cleaning. This is no different.
It is fast and easy and with a 3 day turn around, your couch, dinner table or bedroom floor will never be piled with laundry again!
Laundry Service is also a great gift for college students, the elderly, new mothers, bereavement periods and times of sickness. Need to send laundry service to a loved on or a friend? Create an account on their behalf here.
Garment Tracking
At Red Hangers Cleaners, we've taken some major steps forward trying to avoid losing your clothing garments. We have the most robust software system the industry has to offer.
How do you avoid losing garments?
We add a barcode to every garment that comes in to our facilities.
How do the barcodes work?
These barcodes get heat-sealed into each piece of clothing and remain in the clothing for the life of the piece. We scan these barcodes multiple times throughout the cleaning process so that we know where each piece is at all times.
What happens if my clothing still gets misplaced?
We don't lose clothes often. But in the rare event that a piece goes missing under our watch, we will take care of it. See our guaranty.
Is something amiss? Send us an email to start the conversation.
Gift Cards
Purchasing a gift card online is super simple! Give the gift of clean laundry and dry cleaning for holidays, birthdays, new babies, new college students and other celebrations.
What can I use my gift card for?
Who can I send my gift card to?
Keep in mind, we have

12 locations

and provide free pick up and delivery to most parts of Utah, Salt Lake, Summit, Weber and Davis Counties.
What if the recipient of my gift card already has an account with Red Hanger?
If your recipient already has an account with Red Hanger we will add credit to their account on your behalf.