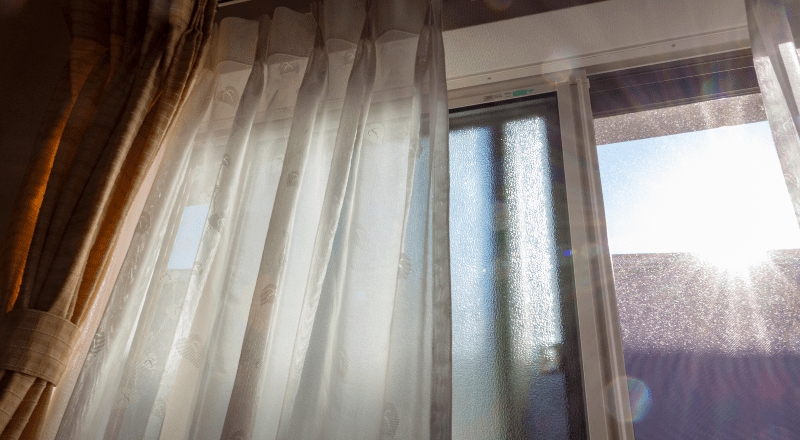 Drapery and curtain fabric can be certainly be a very expensive investment. Curtains and drapes are both subject to fading when exposed to the sun's ultraviolet rays. Although its nearly impossible to completely stop the deterioration process, you can certainly protect your investment by slowing  down the deterioration process considerably and making your draperies and curtails last longer.
What Is The Problem?
Tearing will appear after cleaning draperies and curtains that have weakened yarns.
What Do Damaged Drapes Look Like?
Yellowing or development of yellow streaks and stains is the most common drapery and curtain problem. This occurs due to sunlight exposure which can cause a yellowing of all fibers and breakdown of optical brighteners or finishes. Along with this environmental pollutants and related factors can also cause yellowing and weakening of fibers. Weak sulfuric and nitric acid begin forming when moisture in the air reacts with gases such as sulfur oxide or nitrogen oxide.
Another factor to take into consideration is shrinkage of your drapes and curtains. Some draperies can raise or lower with changes in humidity and temperature but, in many cases, draperies can resize to their original length.
What Causes Damage to Drapes?
Draperies may receive direct or indirect exposure to the harmful rays of sunlight and this is usually what causes damage to them. Sunlight exposure is what causes the yellow streaks that are shown on your drapes.
Aside from excessive exposure to sunlight, atmospheric fumes, heat vents and even pet residues can affect or weaken most dyes in drapes and curtains.
Who is Responsible For Damage to Drapes?
Drapery and curtain damage is a normal circumstance of consumer use and is expected on curtains exposed to the sunlight often. Certain types of fabrics are more sensitive to light compared to others. However, drapes that are more protected from sunlight will not show much damage compared to those that are not as protected. Light rays will slowly weaken and degrade the textile structure only in the more exposed areas, such as the folds or edges.
It is imperative to maintain your draperies properly and have them cleaned regularly by your reputable cleaners to insure that they enjoy a maximal life span.
Aside from drapes and curtains, rugs, chunky bedspreads, down pillows, sleeping bags, afghans and other large household items must undergo professional cleaning. Here at Red Hanger, we will pick up and deliver these items for you.
Is There a Remedy For Damaged Drapes?
Unfortunately, there is no remedy for damaged drapes. Therefore, it's extremely important to maintain your draperies properly and have them cleaned regularly in order to extend their lifespan.
Here are some ways to maintain your drapes and curtains:
Hang sheers in your window to help block some of the ultraviolet rays that fade your curtains and other fabrics.
Install a curtain rod or track that is several inches wider than the window. This will allow extra room on each side of the window to push the drapes open wide and get most of the fabric out of the light when opening the curtain.
Feel free to contact us today regarding any questions you may have about caring for your drapes and curtains.