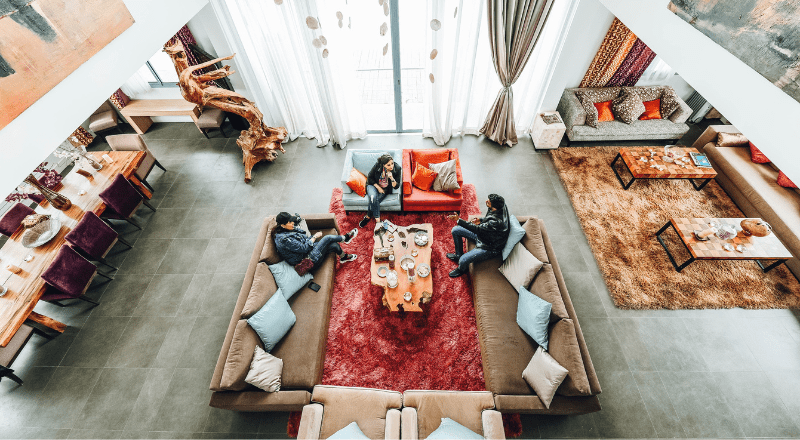 During this time, many people are spending most of their days and weekends at home. Also, many of us are thinking of ways to keep our home as clean, tidy neat and safe as possible. Have you ever thought about deep cleaning your area rug in your living or family room? Yes, spraying disinfectant, air fresheners, using plug-ins, lighting candles and thoroughly wiping down surfaces such as kitchen counters, bathrooms, and doorknobs is a great place to start to keep things clean. However, the coronavirus along with several other germs and bacteria could be lurking in places around your home that you may have never even thought about. This includes your area rugs.
Area Rug Cleaning
Area rugs can without a doubt tie a whole room together and give it a more pristine look. Though, they also are an investment. During the rainy and soggy months, your area rugs take a lot of abuse with dirt and mud on the backs of your shoes. In addition, pets slobber all over them and kids spill drinks & snacks on them constantly.
In fact, dirt, sand and grime can get deep into the fibers of your rugs without you even knowing! Just because your rugs become dirty and stained does not mean that they are completely ruined.
Rugs, drapes, chunky bedspreads, down pillows, sleeping bags, afghans and other large household items should undergo professional cleaning. Bring your area rugs in to Red Hanger today and allow us to clean them for you. Moreover, let us pick up and deliver for you as well! It doesn't get better than that. Also, feel free to take a look at our published blog post to learn about getting rid of stains on oriental rugs.
Health Benefits of Cleaning Area Rugs
Due to the construction of most rugs, the fibers in them trap particles such as dirt, dust, bacteria, oils and other germs. It's true, a vacuum or even a store-rented rug cleaner can remove some of these contaminants. However, only a professional cleaner has the skills and expertise necessary to clean your rugs and get rid of harmful particles, which includes the coronavirus.
A CDC study has proven and provided evidence that the virus that causes Covid-19 can live on the bottoms of shoes. Therefore, it could potentially transfer to your house rug where it could affect your family, friends, loved ones and even your pets. The best way to prevent this is to (ofcourse) refrain from wearing shoes inside the house and on your home rugs. However, a professional rug cleaning is without a doubt the best possible solution.
In addition, there are other health benefits to cleaning your rugs as well. Particles trapped in your rugs, especially things such as food crumbs, spilled drinks, and candies, have the potential to attract bugs and other pests! This could be more dangerous than you may think. Furthermore, things such as dust, grime and other germs in the rug could harm you and your family. All of these factors are great reasons to have your rugs professionally cleaned by your reputable cleaners on a regular basis. Contact Red Hanger today to learn more about our services and our pricing.
Other Health Benefits
Maintaining the soft and comfortable texture of your rugs is very important. In order to do so, it's imperative to have them cleaned on a regular basis, just as you would clean your bedsheets or clothing, so that the fibers don't become damaged over time. Damaged fibers will eventually lead to a scratchy feel, which no one likes. In general, regularly cleaning your rugs is an essential way to maintain them and ensure they remain in good condition for a long period of time, so you get your investments worth!
Along with this, if you, a family member, or a friend spills something on your most-loved rug, it's a great idea to seek professional help asap rather than trying to deal with the spill yourself. Often times, home remedies could cause permanent discoloration in rugs.
Well, it's officially time to give your rug a longer life!
That's right, routine cleanings of your rugs and carpets will help your home achieve more than just a good appearance. Contact Red Hanger today, we can't wait to hear from you!